T5/T6 H&R anti roll bar kit front and rear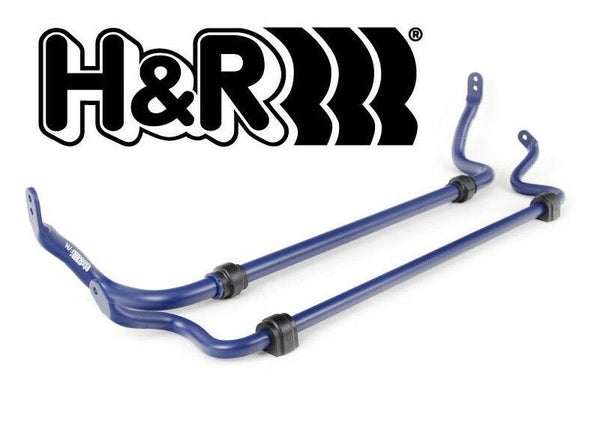 Picture for illustration purposes only. Actual product may appear different.
H&R ANTI ROLL BARS
For over a decade, H&R have been designing and manufacturing performance car parts for the track and the road. Every part that H&R produces has a wealth of experience behind it, which means the very best for your car. To ensure they deliver the best, each part undergoes the renowned German TUV inspection.
H&R designs and manufactures each component in their own German factory, with designers and engineers that represent the best the industry has to offer. They perform stress and environment tests to ensure that their parts stand up to anything that comes their way – whether it is extreme driving or extreme weather. H&R Anti Roll Bar Kits follow this same tradition of dedication and top-quality design.
COMMITMENT TO QUALITY
In order to create the best for your car, H&R ensures that quality control is as strict as possible over the entire design, manufacturing and testing process for their Anti Roll Bar kits. H&R know that every car is special and you want the best. That is why they work hard to make sure that quality means more than just a performance boost, at H&R quality means performance, safety, and comfort. High-grade steel alloy makes up each Anti Roll Bar kit, which means superior strength and durability. In order to make their Anti Roll Bar Kits even stronger, H&R forges each bar as a single piece, rather than as two separate components welded together. This eliminates the weak spots that often come from the join between two welded pieces. Cold formed and then heat-treated, each H&R Anti Roll Bar Kit has strength and stamina. Cold forming components increases their ability to handle high stress loads – such as quick cornering or direction changes at high speed, as well providing a better surface finish. This means less opportunity for corrosion later on in the roll bar's lifetime. The next stage – heat-treating, ensures that the component is extremely hard and durable and will hold its shape.
• High-grade steel alloy used for every H&R Roll Bar Kit
• Each bar formed as a single piece, with no weak welded joints
• Cold formed and heat-treated for strength and durability
THE BENEFITS
All of the great design and careful manufacturing that goes into each H&R part translates into an unmatched driving experience. The quality build and precise set up of H&R Anti Roll Bar Kits ensures a big reduction in the amount of body roll. It achieves this by increasing the roll stiffness of the car's suspension. Body roll occurs during cornering because of load transfer to the outside of a vehicle, which makes for wider cornering and the driver having to fight against their car. H&R Anti Roll Bar Kits offset this by increasing vehicle resistance to roll and allows for tighter, faster cornering. In order to make sure that you have exactly the ride that you want, H&R Anti Roll Bar Kits come with the ability to easily and quickly tune the kit until you have the perfect set up.
• Big reductions in body roll when cornering speed
• Allows for tight cornering at speed without having to fight against the car
• Understeer and oversteer significantly fall due to a much more responsive ride
Summary of H&R Anti Roll Bar Kits:
• Significantly decreases body roll
• Enhances handling and cornering
• Reduces under/over steering
• The Driver can tune the kit to their perfect ride
• Provides performance, comfort, and safety
• Made from tensile steel and formed in one piece
• Manufactured in Germany
• Delivered with the German TUV or ABE approval
Not suitable for T6.1 models