VW Transporter T5, T5.1, T6, T6.1 SoLow AIR Kit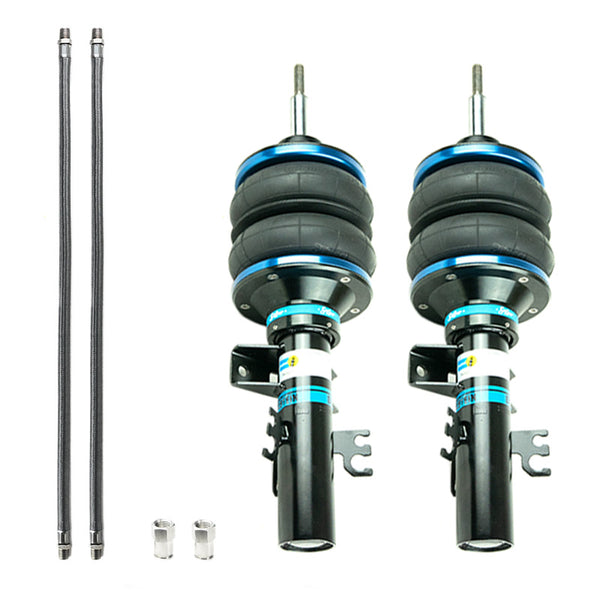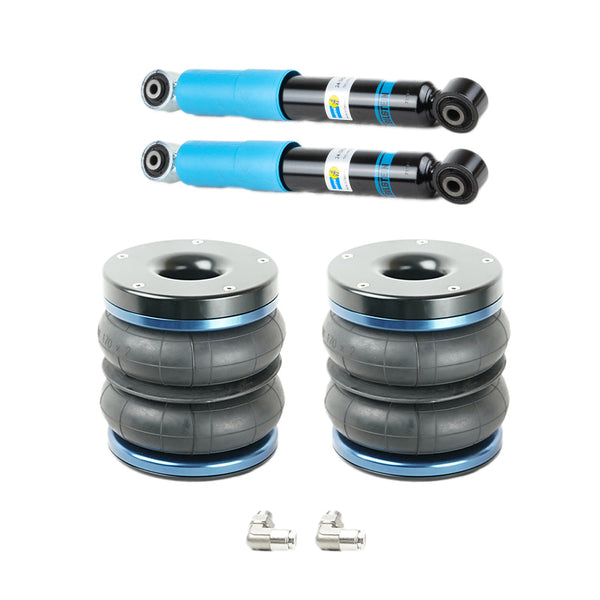 The SoLow AIR kit is a combination of the best selling SoLow Dampers adapted for air suspension by BILSTEIN ensuring the best possible ride whilst giving most drop available straight out the box.
With decades of air suspension design and development the SoLow technicians have built a kit unlike any currently on the market. Using air bellows which have been designed for the weight application unlike the larger bags you find on other kits, SoLow AIR exceeds the ride quality of all competition.
You can lower your van 195mm all round from the standard ride height and featuring 110mm of lift you can still achieve good clearance at drive height.
Being an Air suspension kit, these dampers are completely height adjustable, helping you to get your van sitting perfectly level on the move and laid low when parked. You can also use this kit to your advantage when camping to level your van, ensuring a great night sleep.
Why choose the SoLow AIR over the other kits on the market?
Superior ride quality due to using the best Dampers on the market for Transporters also by using the correct size air spring which also offers more wheel clearance

Built using only the highest quality components

2 year warranty on all components

Use of a Central Girdle Ring ensuring stability of the air spring, and to prevent deformation of the air spring

Developed by a team who have over a decade of experience in air suspension on Transporters and many Performance Cars

Has been tested to the extremes for over a year before being put onto the market, ensuring longevity of the kit

Can achieve maximum drop of the van without hub mod

Environmentally Friendly packaging 
Max out of the box drop:
195mm without need for a hub mod
Compatibility:
VW T5, T5.1, T6 and T6.1

2003~Current Year

T26, T28, T30 & T32

PLEASE NOTE: The biggest 20″ tyre size we recommend on the front to ensure there is no rubbing is 255/35R20
What is included:
Front SoLow T30 AIR Struts

Rear SoLow AIR Springs

Rear SoLow Dampers

Black Braided Stainless leader lines

Push fit Connectors
 
Management if selected:
3/8" or 1/4" Manifold
3/8" or 1/4" airline
Display unit
Wire Harness
Self Purge Water Trap
APP FOR IOS OR ANDROID
Solow SHH quiet Compressor
3 Gallon seamless black Aluminum Tank
height sensors (only with 3H)
height sensor brackets for t5-t6.1 (only with 3H)
Unsure if you have a T26, T28, T30 or T32? Just give us a call and we can help you figure it out

Installation

These suspension kits should only be fitted by a qualified air suspension installer with knowledge of installing vehicle lowering systems. DIY installation is not recommended. If you require fitting please get in touch for a quote or we will recommend an installer. 
For installation quotes and availability at our workshop in Wymondham, Norfolk, please call or email.
Installation prices at lowdown transporters.
3p management: £1440 inc vat
3h management: £1800 inc vat
Shipping
Free shipping to uk mainland, for all other shipping enquiries please contact info@lowdowntransporters.com